GN solids control showed our high speed decanter centrifuge at Petro-tech 2016 in India, a lot of clients showed interests on our decanter centrifuge. GN decanter centrifuge can be used for the industries below:
(1) Oil sludge separation: the VFD decanter centrifuge can separate ultra fine solids from the oil water mixture fluids by adding chemicals, then feed to the 3 phase separation system.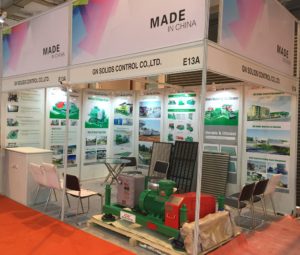 (2) Drilling waste management system: VFD decanter centrifuge can separate fine solids from the drilling fluids discharged from the vertical cuttings dryer, the solids content in the cuttings discharged by the vertical cuttings dryer is under 5%.
(3) Solids control system: high speed decanter centrifuge can separate barite from the drilling fluids, to reuse the barite can save huge cost for the drilling company, also it can separate the low gravity solids from the drilling fluids to reuse the drilling fluids.
(4) Waste water treatment: with dewatering unit and polymer dosing system, the decanter centrifuge can separate solids from waste water as thickening centrifuge.
The solids discharged from the decanter centrifuge is dry enough like a cake, you can adjust the humidity of the discharged solids by adjust the pond depth plate on the big end of the centrifuge bowl.
GN high configuration decanter centrifuge is suitable for the working conditions as below:
High temperature drilling fluids/ oil sludge after heating and mixing
High temperature working environment, even in middle east and India
Duplex stainless steel and stainless steel 316L bowl material can work for hazardous PH value waste water
GN solids control have decanter centrifuge in stock both in our China facility and Houston warehouse, welcome to contact GN solids control for purchasing. Before feeding to decanter centrifuge, if the solids content is over 30% or there is big solids size over 2mm, pls use GN high G force shale shaker to reduce the solids content firstly.