GN Solids Control is China leading manufacturer for solids control equipment & drilling waste management equipment. The sales amount of solids control equipment is also the No.1 during China solids control suppliers.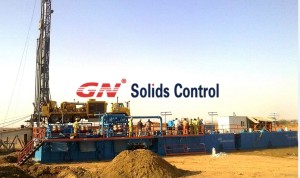 30 sets agitator for Kuwait Drilling Company
GN Solids Control is Agitator leading company from China. From last year, we offer over 30sets agitator to Kuwait. The end user is Kuwait Drilling Company and the direct buyer is local trading companies or small service companies.  GN direct connection mud agitator can work very good in agitating the drilling mud.
30 sets mud decanter centrifuge working in Iran market
Iran is oil rich market with large requirement for solids control equipment & drilling waste management equipment. During past recent years, we exported over 30sets centrifuge to Iran market. The main customer uses the centrifuge for solids control service and drilling cuttings management service.  GN decanter centrifuge is much popular in Iran solids control service company and Nigeria solids control service company.
Over 10 sets high G dryer working for Middle East
High G dryer is equipment professional for water based mud drilling waste management equipment. After treated by High G dryer, the OOC can reach to about 10%.  However, if with vertical cuttings dryer, the OOC can reach to 3%, much dryer performance than High G dryer. GN Solids control vertical cuttings dryer is working in many jobsite, like Baker Hughes jobsite vertical cuttings dryer, shell jobsite vertical cuttings dryer etc.
Over 2000 pcs shaker screen for Middle East customer
Every year, the customer from Middle East buy at least 2000pcs shaker screen as replacement screen for Derrick FLC 2000 / 500 screens, replacement screen for Swaco Mongoose screens., replacement screen for King cobra shaker screen Etc.
With large production capacity of solids control equipment, GN Solids Control can offer reliable equipment with large quantity in short delivery period. If you need any support, pls contact us freely.