As a VFD decanter centrifuge and vertical cuttings dryer manufacturer in China, GN solids control recently shipped another batch drilling waste management equipments to Nigeria again. This is not the first order, they repeat purchasing VFD decanter centrifuge and vertical cuttings dryer from GN solids control. The technical configuration is as below: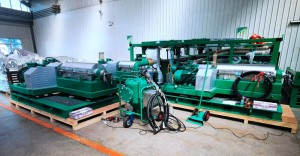 1.    3 units of GNLW363C-VFD decanter centrifuge,
2.    2 sets of GNCD930F vertical cuttings dryer, according to some of our client, the Oil content in the cuttings can be reduced to below 5%, it can meet some countries disposal regulation, so that they will use the discharged solids for landfill or construction industry.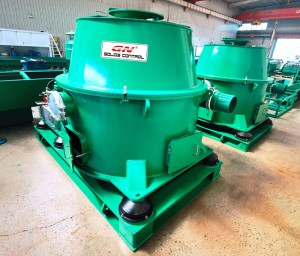 3.    Telescopic skid and feeding pump, the feeding pump is installed on the telescopic skid, during transportation, the decanter centrifuge and vertical cuttings dryer will be removed for separate shipment.
For rest accessories, such as connection pipeline, fluids catching tank, etc, the user can make it locally according to their layout. Different with GN standard drilling waste management system, which is a skid mounted drilling waste management system for convenient transportation, the separate part of decanter centrifuge module and vertical cuttings dryer module is more flexible, it can be used for different projects.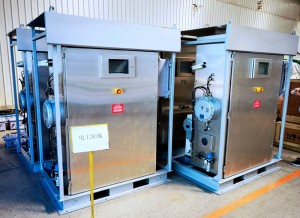 Except for VFD decanter centrifuge and vertical cuttings dryer, GN solids control also produce the drilling waste transfer system and we can provide customized waste transfer solution. Including screw conveyor, sludge vacuum pump, fluids collection hopper, etc. The screw conveyor is the most common used equipment for drilling waste transfer. It is consist of explosion proof motor, gearbox, coupling, shield, bearing sear assy of driving end, header of driving end, housing, screw shaft, middle bearing seat assy, blind flange, connection plate of the blind flange, inlet, bearing seat assy of the feeding end, header of the feeding end, gland, outlet and drive seat.