Recently GN solids control shipped one unit of dewatering unit to Africa, the client already bought dewatering centrifuge from GN before, he needs to use chemical dosing unit for new projects, considering the hot temperature weather in Africa, we put the dewatering unit into standard container for convenient transportation and water/ sun proof, the container with windows, doors, air conditioner, lightings. The dewatering unit including three tank automatical powder polymer mixing system and Coagulant mixing tank, the user can use either flocculants or coagulant for different purpose.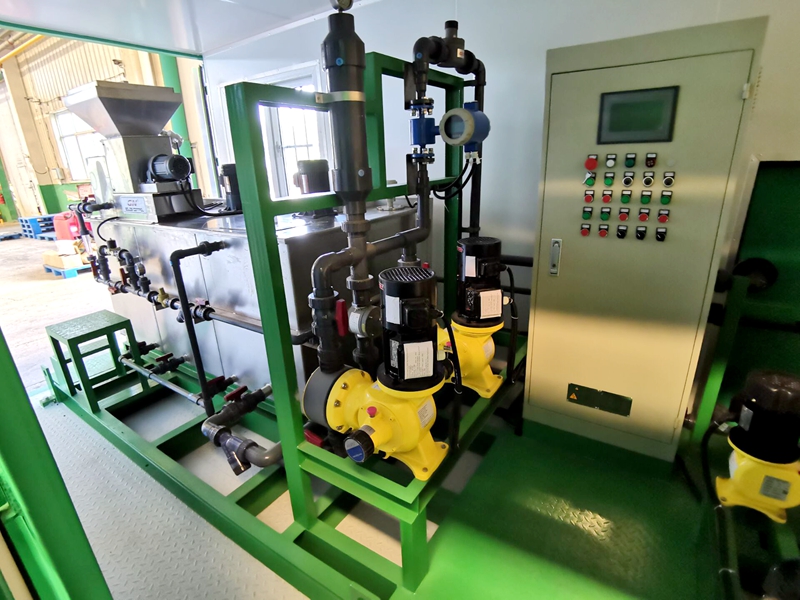 The working process is as below:
The powder chemicals are adding into the hopper for mixing and aging, the 3 tanks ensure the continuous operation, the chemical dosing pump transfer the mixed chemicals to centrifuge feed tube, and mixed in the Static mixer before feeding to the dewatering centrifuge feed tube. The most popular model is GNLW363C-VFD, the bowl diameter is 14 inch, the bowl length is 50 inch, the max speed is 3900rpm, the normal working speed is 3200rpm, the max G force is 3063G, the typical G force is 0~2062G, the mechanical separation cut point is 2~5 microns, by working with dewatering unit, the separation cut point is up to 1 microns, most of the ultra fine solids can be separated out, the customer can get pure water and drier solids for final disposal.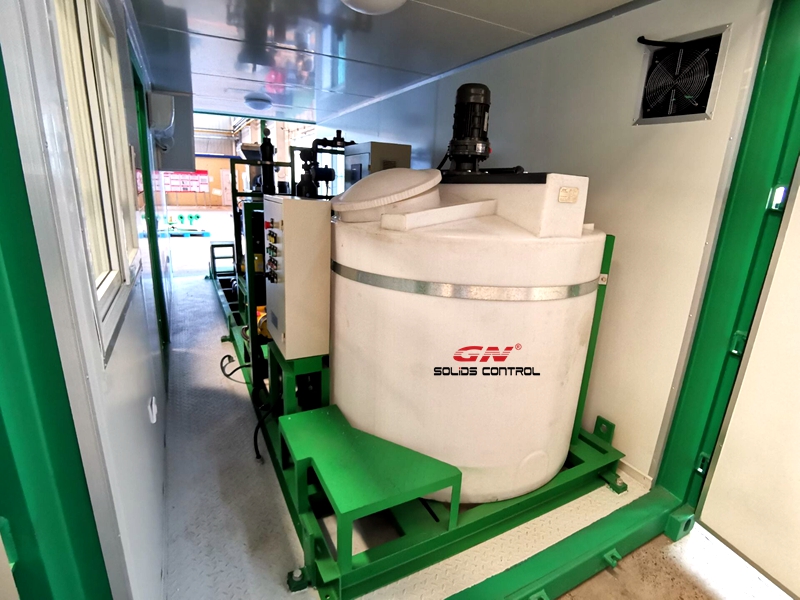 The VFD control panel drive the main motor, back drive motor and pump motor to set bowl speed and differential speed, the pump speed can be also adjusted to adjust the feed flow. The PLC smart control and HMI interface ensured the automatically operation.
Except for GNLW363C-VFD, we also have GNLW453-VFD and GNLW553-VFD and GNLW674-VFD decanter centrifuge for option with larger treating capacity. If you need a dewatering centrifuge unit solution, pls contact with GN for more information.