GN solids control brand decanter centrifuge has been used for high gravity solids drilling fluids successfully in Shengli Oilfield in domestic market. The features of the drilling waste fluids for this zero-discharge projects are as below: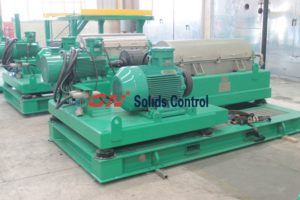 High viscosity, high corrosive, high oil content, high pollution, difficult to be treated, high treating cost, etc.
The technical datas of the drilling waste management for the zero-discharge project is as below:
Drilling waste total volume: About 2000 tons each drilling period, each period is about 7~15 days
Solids content in the drilling waste fluids: experienced data 2%
Dry solids : 40 tons / period( approx)
The traditional waste water treatment equipment is hard to work continuously 24 hours automatically, the drilling waste cuttings is increased and discharged from shale shaker, desander, desilter , decanter centrifuge, especially for the shale shaker discharged cuttings, much of mud, cuttings are included in the drilling fluids, the cuttings size is between 5~ 20mm, If treated by the traditional belt filter for drying, the filter will be damaged and blocked.
After study and test in the client's rig site, GN engineer team adopted our GNLW363CG-VFD decanter centrifuge for drilling waste treatment of this project. Our decanter centrifuge is 3 VFD control for main motor, back drive motor and pump motor, which can be used for different applications. And we can change the pulleys by changing the speed if required.
Normally 2200~2700 rpm is recommend for high gravity solids treatment, 2700 ~ 3200 rpm is recommend for low gravity solids treatment, 1800 ~2000 rpm is recommend for barite recovery. 3600~4000 rpm is used for dewatering unit.
GN solids centrifuge has been widely used for oilfield zero discharge project in domestic and worldwide, if you need a customized drilling waste management system for your waste cuttings treatment, pls contact with GN solids control.