Shaker screen is type of quick-wear part widely used on shale shaker in drilling process to remove out the cuttings from drilling fluids. There are many shale shaker manufacturers in the world, and in the mean while, they also provide the original shaker screens to matching their own shaker. However, to the screen user, to find a screen supplier who provides replacement screen with cost effective price would be the best choice, as the original shaker screens are always price higher.
All screen manufacturers may have different technology to fabricate the screen. From the wire mesh choosing to glue processing, almost every procedures are different technologies.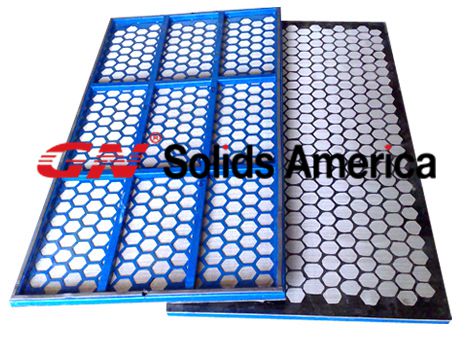 Then how a screen manufacturer makes replacement screen for other brands?
It is well known the shaker screens could be made as per Mesh No. and API No. Mesh No. is a designation of ASTM and ISO which means how many holes within one square inch. If you order the replacement screen by telling the Mesh number, it may lead to a mistake as different manufacturer use different diameter steel wires to weave the mesh surface. Though the mesh numbers are same, the size of the hole is different. Thus if you want to order screen by providing the mesh number, you also need tell what size particles you want to separate. It is also called separating point.
On the other hand, API number is a size span of microns; all sizes in this span are classified into one API No. A specified API number means 100% of solids with size in this span will go through the screen panel. On screen performance, API also defined the non-blanked area and conductance. API number is much acceptable to manufacturer when ordering the replacement screens.
Some buyer may bring some famous screen suppliers' mesh number to other supplier for asking replacement screen price. It should be noted that mesh number only indicates the first top layer wire mesh performance. A better way is to provide the complete screen part number, and then screen manufacturer is able to find the corresponding API number. It will help both the user and supplier to avoid mistakes.
GN Solids Control is a professional manufacturer of drilling mud system and shaker screen. Our capacity of screen is around 5000 thousand piece each month. Replacement screen for many world famous brands could be found in GN's production line. For more information, no hesitate to contact with us.