Recently we shipped 2 sets of linear motion shale shaker and 1 set of linear motion mud cleaner to Middle East. This is a 2 mud tank system, one mud tank is with only one unit of linear motion shale shaker, the other tank is with 1 unit of linear motion shale shaker and 1 unit of linear motion mud cleaner. The processing rate of the system is 500gpm. This is not our standard design, this is customized design for the slow oil industry client.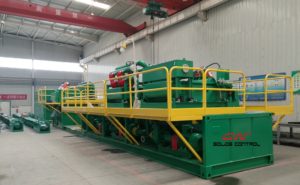 GN mud recycling system/ solids control system can be applied for all kinds of drilling when you need to clean and reuse the drilling mud. We are the drilling fluids cleaning and disposal specialist for water based mud, oil based mud and synthetic based mud.
We have supplied solids control equipments, drilling waste management equipments and mud recycling system to middle east clients in the past years. Sometimes they will buy the equipments from us only, and make the mud tank locally to save freight cost. Some clients need a mud system easily movement, they will buy the skid mounted mud tank from GN, and installed in on their own trailer, together with the other components, for example, generator, pipelines, transfer pumps.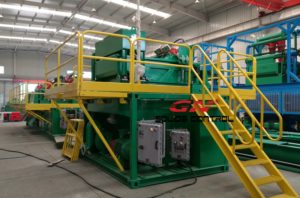 The second mud tank with a centrifugal pump as transfer pump,The first mud tank with 3 sets of centrifugal pump, 2 of them as feeding pump of the desander cone and desilter cone, 1 as the mixing pump with the mixing hopper unit and shearing unit.
If you need a mud recycling system for water well drilling/ water injection well drilling, geothermal well drilling, diamond core drilling, Coal bed methane drilling, Horizontal directional drilling, shallow oil & gas drilling, deep water drilling, deep oil drilling, pilings, Tunneling, construction work, etc, pls contact with GN solids control.