GN solids control shipped one set of mud recycling system for domestic client for drilling rig mud cleaning, the technical configuration is as below:
1) 2 sets of 3-panel shale shaker GNZS703F as first phase cleaning equipments with mud distribution box. The screen area is 2.73m2, each screen dimension is 700x1250mm, the screen locking method is by wedge and fixed by ratchet wrench. 2ea of 1.72KW vibration motor drived the shale shaker and provide G force up to 7.5G ( adjustable). The shaker deck bottom material is stainless steel for better corrosion resistant.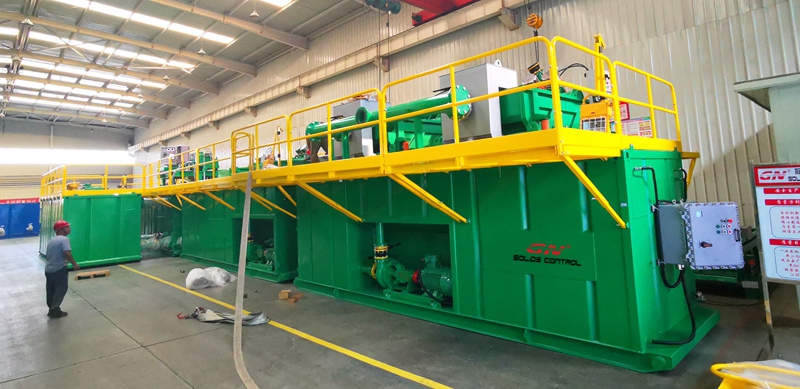 2) 1 set of desander GNZJ752-2S as second phase cleaning equipment, with 2ea of 10 inch PU material desander cone. The bottom shaker is 2 panel screens installed composite material shaker screens.
3) 1 set of desilter GNZJ752F-12N as the third phase cleaning equipment, with 12ea of 4 inch PU material desilter cone. The bottom shaker is with 2 panel composite material shaker screen.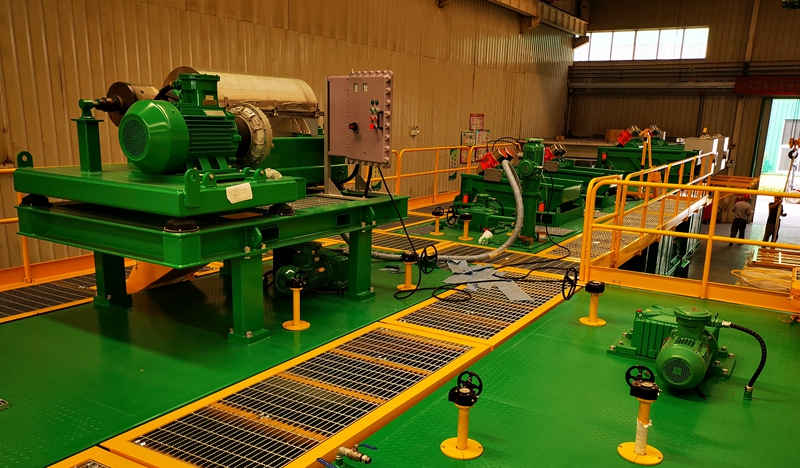 4) 1 set of decanter centrifuge GNLW452 as barite recovery centrifuge, the normal operation speed is 1800rpm or 2200rpm. This is the 4th phase cleaning equipment with cut point 5~7 microns. The vertical installed submersible slurry pump as centrifuge feeding pump.
5) 3 sets of mud tanks as trip tank, active tank, intermediate tank, storage tank, mixing tank, the mud agitator and mud gun are installed on the mud tank for agitating the drilling fluids.
6) Mud tank accessories such as high position butterfly valve, drain cleaning gate, pipelines, flexible connector, man hole, walkways, handrails, stairs, hose, flanges, etc.
7) Explosion proof motor and control system to control all the electric motors and lightings.
This is a customized solids control system according to client's requirement. If you have requirement for drilling fluids & drilling waste treatment solution, pls contact with GN Solid Control.