GN Solids America LLC is one of the top machinery manufacture in China for drilling mud solids control and drilling waste management of the drilling cutting waste.  The shale shaker screen is most consumable part on whole drilling mud solids control process.  GN solids America's shale shaker screen combine with exceed industry standard and aggressive sale price, it becomes most selling item among operators in the drilling field that perform drilling and/or waste management for environment protections.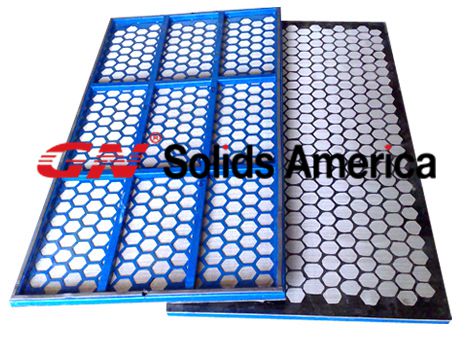 GN Solids America LLC manufacture replacement screen for popular brands like Derrick, M I Swaco, NOV and Fluid System.  GN Solids America LLC also accept custom design order for screen as well among other brands and operators that have special need for operation.  While price and spec is exceed expectations of operators, GN Solids America LLC offer 2 type of frame materials for the shale shaker screen to satisfy operator's operation objective.  Steel frame shale shaker screen is for price awareness operator while composite material frame shale shaker screen is for operation-effectiveness operator.  Both type of screen will filter the same index of solids that is in the drilling mud and/or other wastes.  . Composite material screen has better separating performance due to the shaker screen area is larger than metal frame screens. The steel frame shaker screens are very heavier while the price is lower than composite material screen.
GN solids America LLC's main replacement shale shaker screen is for GN Solids America's own shale shaker and mud cleaner and for M I Swaco's Mongoose shale shaker.  The screen has offer both metal frame and composite material. Generally speaking, the using life of composite screen also last longer than the metal frame screens. GN's replacement for NOV King Cobra series and  VSM-300 series screens also has those two materials can be chose. All shale shaker screen comply with the manufacturing standard of API RP13C, which the common standard for separating measurement.